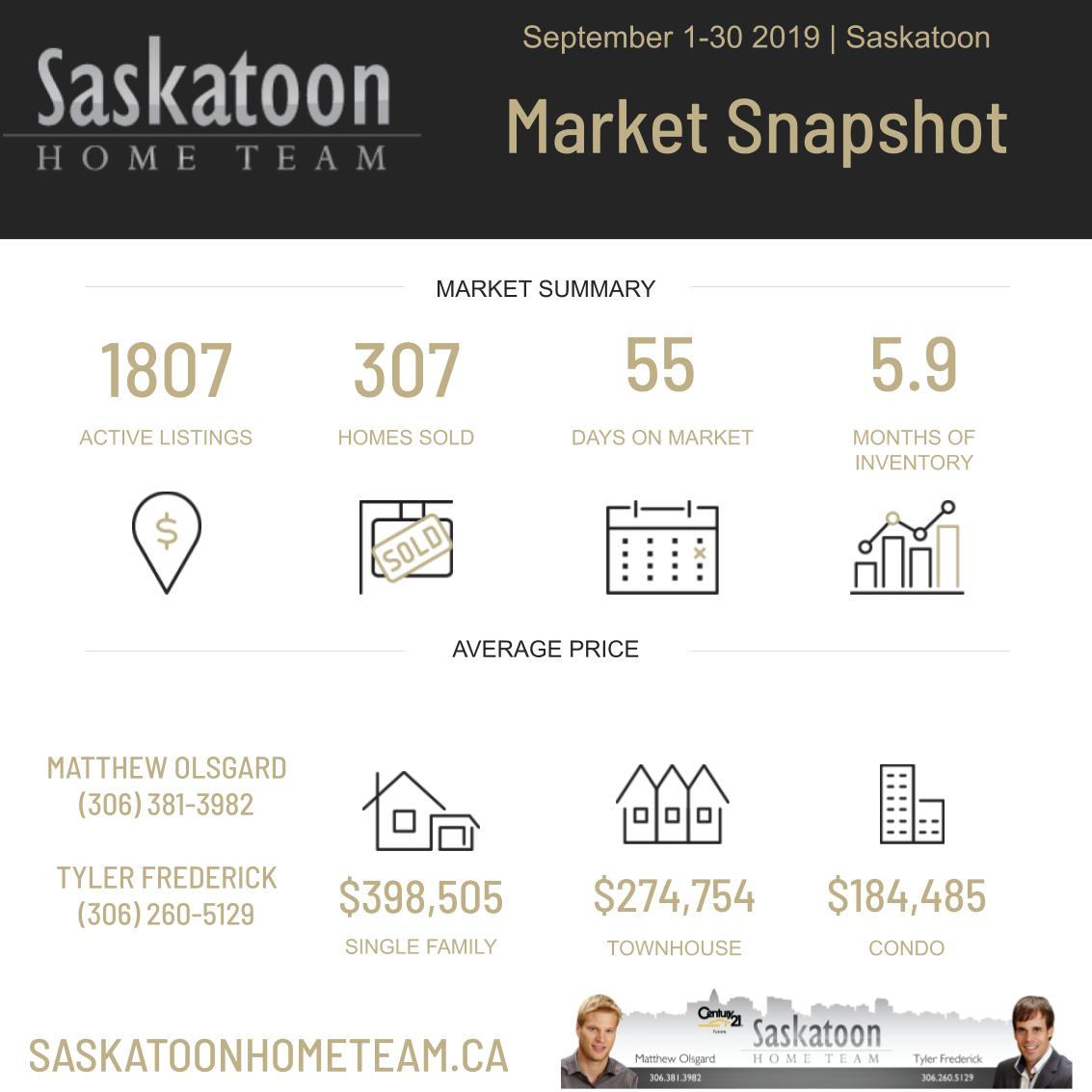 Saskatoon Area September 2019 Real Estate Market Update
Saskatoon
Sales volume in Saskatoon continues to be very stable as sales are up 10% from September of 2018 and also ahead of figures in 2017. Average prices have risen in the single-family home market due to significant activity in the luxury market.
The average selling price for a single-family home under asking during the month of September was $13,384 and the average days on market is 46.
Condominium sales have been quite active recently which began back in July. The average selling price under asking for a condo in Saskatoon during September was $10,330 and the average days on market is much longer than a single-family home at 64.
Townhouses in Saskatoon are down 6 sales in the month of September when comparing to the same time period in 2018. There were 28 townhouses that changed hands in 2019 in September, the average price is slightly higher at $274,754. Townhouses take the longest to sell out of any property style as the current average days on market is 95.
There are currently slightly more listings active on the Saskatoon MLS than there were last year as were currently sitting at 1807 which is nearly 6 months of inventory. Anything over 4 months of inventory signifies a buyer's market and this certainly is a prime example. Buyers are able to negotiate more off prices than they have over past years. Listing activity has dipped since 2017 over the past few years as we were well over 2000 listings during that September.
Acreages Within 50KM of Saskatoon
The acreage market surrounding Saskatoon has continued its slow pace of late. Within 50km of Saskatoon there were only 9 firm sales during the month of September. The average days on market for an acreage that sold during September was 113 and the average selling price under asking is $24,478.
If you have any questions about buying or selling, don't hesitate to give us a call!